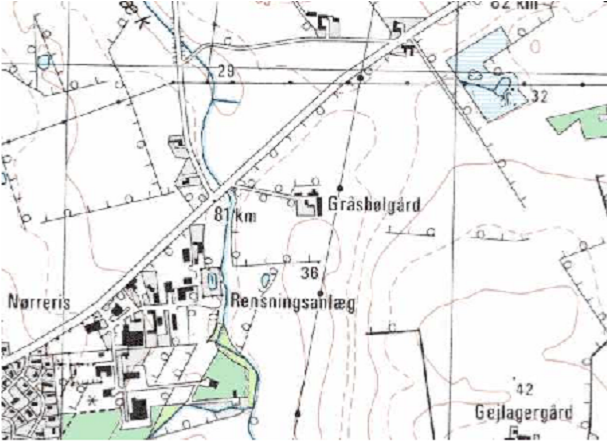 The Grosboll name / Graasbøl-Grosbøl navnet

The ending bol (bøl/boel), which you can find 3 times even in the small key map (Rojbol, Mojbol, Stursbol), means an outlying farm, and should date from the viking age. An excursion to the southern part of Jutland will show hundreds of places with the ending bol.
The name Graasbolgaard is probably straight out The grey outlying farm (gaard=farm).

Endelsen bøl, som findes 3 gange, selv på et så lille udsnit som oversigtskortet (Rojbøl, Mojbøl, Stursbøl), betyder en udflyttergaard, og skulle gå så langt tilbage som
vikingetiden. En tur rundt i Sønderjylland vil vise hundrevis af forekomster af endelsen bøl.
Navnet Graasbølgaard er formentlig derfor lige ud af
landevejen Den graa udflyttergaard.